A Visual History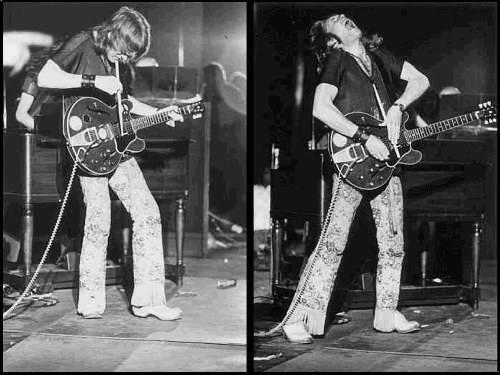 HERB STAEHR

There are fans, and there are FANS. And after paying several thousand dollars at a London auction house, a couple of years back, for the Gibson 345 guitar used by Alvin Lee at the 1970 Isle of Wight festival, Massachusetts-based long-time Ten Years After fan, Herb Staehr, has most definitely earned his place in that latter category. But he didn't stop there. For during the last few years Staehr has been meticulously marshalling his extensive collection of TYA and Alvin Lee memorabilia into the production of this mightily impressive book - to the best of my knowledge, the first one ever written about either this seminal British band or its brilliant guitarist frontman. It is - as its title implies - primarily a photographic history of the development of TYA, from its early sixties roots as a three-piece teenage band known as The Jaybirds, to its evolution into the four-piece stadium supergroup of thirty years ago. And what astonishing photographs there are. Staehr has not only unearthed literally scores of rare and previously unseen photos of the band in its glory years, but also fascinating images of the aforementioned pre-TYA Jaybirds. Following the break-up of the band in the mid-seventies, he has produced here a comprehensive catalogue of pictures detailing the development of Alvin Lee's solo career right up to the present day. Photos of the various TYA comebacks and reformations are also included, as well as images relating to the solo careers of other band members. So, if its photos you want, there will never be a better place to come, or a better book to buy. They include not only the examples listed above, but concert posters, album sleeves, ticket stubs, magazine covers - you name it, it's here. But Staehr has also provided a wealth of literary information too. There is a band biography, an impressively researched and massively detailed "concert chronology", album and gig reviews, extracts from interviews with band members and associates, all concluding with a comprehensive discography, a listing of T.V., film and video appearances, and finally an extensive biography. It goes without saying that this superb book is a "must buy" for all fans of Ten Years After and Alvin Lee. Yet its appeal should go wider than that. Anyone who was a fan of late sixties and early seventies blues-rock, or who counts themselves a member of the "Woodstock generation", or who just likes a darn good rock and roll read, will find themselves glad they purchased this book. No band rocked the blues like Ten Years After. No-one has recorded and written about that fact as well as Herb Staehr has done here.
R.S.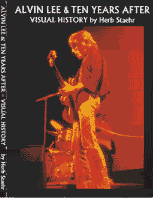 Ten Years After
were thrust into the limelight following release of the Woodstock Festival film documentary in May 1970. Their set closing number, "I'm Going Home", remains as one of the most exhilarating rock performances captured on film. Many critics have said it was the Woodstock movie that "made" Ten Years After, however they already had a significant following on both sides of the Atlantic. It was the existing recognition which earned them an invitation to play at Woodstock. Their career actually began four years earlier when, like many other British groups of the period, they developed their skills while performing at clubs in Germany and Scandinavia. Ten Years After's first big success was a standing ovation from the 20,000 attending the 7th National Jazz & Blues Festival at Windsor, England in August of 1967. Within a year, rock promoter Bill Graham invited them to perform at his legendary Fillmore Auditorium in San Francisco and word of the group spread like wildfire. It was not long before Alvin Lee became one of the most revered guitar players of the period and was nicknamed "Captain Speedfingers" for his incredible speed and dexterity. Ten Years After were in the thick of things throughout the exciting and formulative late 60's and 70's era of rock music. Their story offers an interesting and entertaining trip back to a period when there wasn't a drum machine or synthesizer to be found and the music was only as good as the band. Ten Years After met the challenge and they are still performing today...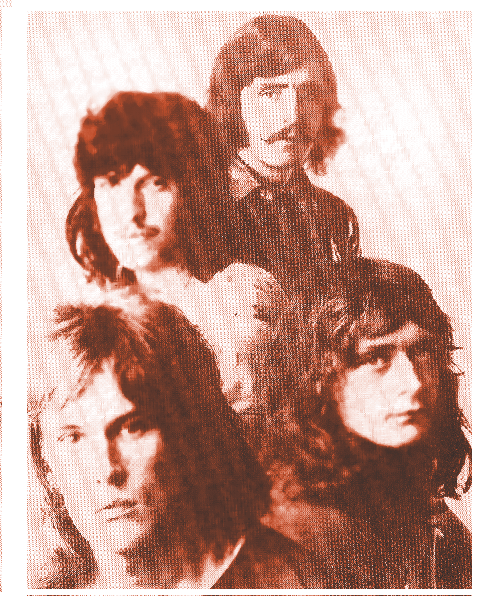 About the Author Herb Staehr lives in Massachusetts and has been following Ten Years After since the early days of the "Boston Tea Party" and the 1969 Woodstock Festival. His book draws upon his vast collection of concert recordings, posters, handbills, ticket stubs, magazines, books and photos - some of which are featured in the new Ten Years after "Live At The Fillmore East" audio CD booklet.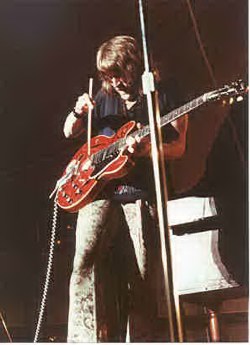 Get your copy before they are all gone