Fillmore East




TYA engagement at The Fillmore East -Deram 1970 Release of Cricklewood Green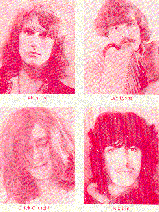 All Music Guide EXPERT REVIEW:
This superbly recorded double disc (the original engineer was Eddie Kramer, best known for his work with Hendrix) captured over a weekend worth of dates in February 1970 at the venerable New York City venue catches the Brit boogie quartet at the peak of their powers. These shows were sandwiched between their triumphant Woodstock set and the release of Cricklewood Green, generally considered the band's best work. They find the group primed through years of roadwork, as well as obviously excited to be playing in front of an appreciative N.Y.C. crowd. Kicking off with one of Bill Graham's patented individual member intros, the group wends their way through the ominous riff of "Love Like a Man," one of three songs from their as yet unreleased new album. Mixing extended and rocking versions of blues standards like Sonny Boy Williamson classics "Help Me" and "Good Morning Little Schoolgirl," as well as Willie Dixon's "Spoonful" with two "Chuck Berry" covers along and some nuggets from their own catalog, Ten Years After burns through this show with enormous energy and an infectious enthusiasm. Alvin Lee and his flying fingers stay firmly in the spotlight throughout, but the remastered sound is so immaculate you can appreciate the contributions of the other generally overlooked TYA members Chick Churchill on keyboards and especially Leo Lyons' fluid bass work along with Ric Lee's jazzy drums. The songs shift into overdrive on the jams — the longest of which pushes "I Can't Keep From Crying Sometimes" to 20 minutes — and amazingly stay interesting for the majority of that time thanks to Lee's sense of flashy dynamics as he quotes liberally from Hendrix and Cream riffs. Detailed liner notes from drummer Lee detail the scene, not only in terms of Ten Years After but also of the musical camaraderie of the time. Some of this is almost embarrassingly dated — the drum solo laden "The Hobbit" is particularly guilty as are the often interminable guitar gymnastics — and the Chuck Berry numbers might have been live crowd pleasers but don't add much to the originals. Still, this is the best Ten Years After concert album (of the three now in the catalog), and proves just how vibrant these boogie boys could be when inspired by the crowd and each other on a perfect night. — Hal Horowitz
FILLMORE EAST


Located at 2nd Avenue and 6th Street, Manhattan, New York, New York, USA.
Opened March 8th 1968
Closed June 27th 1971.

Ten Years After's first performance at Fillmore East was on the 2nd and 3rd of August 1968, during our fIrst tour of America. We opened for Big Brother and The Holding Company and The Staple Singers. The Staple Singers were magnificent, but awesome Janis Joplin completely blew the audience away.


Our next appearance was on September 271h and 281h 1968, this time sandwiched between headliners Country Joe and The Fish and openers Procol Harum, friends of ours with the same management .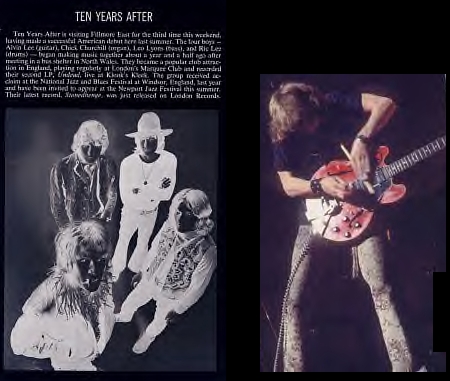 February 28th and March Ist 1969 saw our first headline gig, supported by John Mayall and Slim Harpo. It was at this gig that I got into trouble with our managers for going on stage in the first set to jam with John Mayall and Mick Taylor, the guitarist that replaced Peter Green in John's band and who would leave again soon to join The Rolling Stones. Although this was in a time of spontaneous jamming between members of different bands at assorted venues, I was told in no uncertain terms on this occasion that it was not on for a member of the headline act to iam with the the fact that the audience went crazy when I did and myactions didn't jeopardise our status later in the evening in any way. There were other jam sessions at the Fillmore too. After hours, Bill would supply some food and drinks and the bands and invited guests would get together and jam until dawn, when everybody staggered out into the morning light, hoping to be able to find the way back to their hotels without too much qrief.
The English Invasion was next on April 9th and lOth, 1969 with our mates, The Nice and Family. Family and Ten Years After had enjoyed a friendly rivalry since the early Marquee Club days in England when both bands were booked by separate agents from the same office. A wager was taken as to which band would first receive a sixty five pound fee for an engagement at any club in UK durina 1967. We won.
On the second day of this engagement at Bill Graham's burgeoning venue all of us were pleasantly surprised and flattered when Jimi Hendrix turned up to watch the show. Alvin, Leo, Chick, and I had met Jimi on a couple of previous occasions; the first when we played support to The Experience at Sussex University, Brighton, England early on in our careers and later when Jimi, drummer Mitch Mitchell and guitarist Larry Coryell came to sit in with us during our residency at Steve Paul's Scene Club, the first New York venue we played back in 1968.
In 1970, we headlined on February 26th with John Hanunond and Zephyr (with Tommy Bolin) and on the 27th and 28th with John Hanunond and Doug Kershaw. Luckily the shows on these dates were recorded and have been re-mastered for this double CD. None of the tracks here have been released before with the exception of Love Like A Man which was the B side of a vinyl single in April 1970 on the Deram label and gave us a Top Ten hit in UK in sumner that same year.

The Fillmore East was a cosy theatre with a seating capacity of 3664, unlike Filhmore West in San Francisco, which was the old Carousel Ballroom and had very little seating. Before the shows the street outside would be teeming with hippies, stone freaks, groupies, fans and street people of the east village. Sometimes we entered the gig through the front doors and were bombarded by all and sundry requesting: "Spare change, got any spare change?". None of these demands were ever threatening in any way and Leo's initial response of "Thanks, how much have you got?" later became a stock answer. Wisely we never succumbed to these requests and later some of the same protagonists protesting poverty would be seen in Chicago or Los Angeles maldng similar requests outside the gigs in those cities.

Shows at the Fillmore East were twice nightly at eight and eleven thirty. No matter which time you went on stage, with three acts on each night, there was always a long wait until your second set. I'd relieve the boredom of sitting in what were pretty basic and somewhat dismal dressing rooms, we would often go front of house and watch the other acts for a while and then, as it was a long evening, venture next door to Ratners. Unlike its English namesake of later years, Ratners was not a jewellery chain, but a superb Kosher dairy restaurant. Their nut cutlet was fabulous. This was a dish of mashed potatoes and mushrooms with an outer crust of breadcrumbs. It looked very similar to Chicken Kiev,but the taste was strikingly different inimitable.
Backstage was spartan. The bands performed on staging built over the orchestra pit. The are behind the light show screen was
stripped wings. flies and backdrop facilitate quick changes between acts. It was very stark and even though the theatre was well heated, it always seemed cold on the main stage; surrounded only by three bare brick walls

All the heavy backline gear; drum kit, Hammond organ, Marshall amp stacks and the like were set on low, mobile risers. When the first act finished, the light show screen was raised and the equipment was rapidly rolled in and out of position. Beneath the stage was a grim, mucky basement, but more of that later.

The stalwart engineer of the tracks on this CD package was pucker Englishman H. Kramer, better to us as Eddie. He is perhaps most famous for recording all of Hendrix's hits and the masremind behind the building of Jimi's New York studio, Electric Ladyland.
For these sessions,poor Eddie was consigned to the grim mucky basement with what; was probably a rented, handmade console and a Scully eight track tape machine, which I believe I also used at Woodstock for recording the festival. The desk was probably made by Bill Hanley who supplied all the PA systems around that time. There I was in that dingy cellar, cans (headphones) on, crouched over the desk, surrounded by enormous heating pipes and, although I never actually saw one, I'm convinced there were rats within spitting distance. As soon as the band on the staqe above me leapt into action, I was showered with dust and had to dash to cover the sensetive recordimg. gear with sheets, polythene anything else directly to hand. "Not the easiest way to record."
The atmosphere up t op, however was electric. Bill Graham introduced us individually and the minute you hit the stage, the hot air from
overhead lighting. thick with the smell of dope, instantly warmed you and set you up for the show.

The audience at once seemed like best friends, wanting to share whatever we were going to give them with tremendous involvement and appreciation. In addition to the usual stage lights was Joshua's fabulous light show. Behind my low dnun riser was an enormous screen which filled the whole of the proscenium arch, providing a backdrop to the band, on which was projected, from a gallery at the back of the stage, the most amazing psychedelic !mages; forming, disintegrating and re-forming again and again in sympathy with the music.

A quick note about some of the gems included here:
Spoonful had been a principal part of our stage act in the early days and was incorporated in our first studio album for that reason. By the time this Fillmore concert came along it had been dropped in favour of the tracks from the forthcoming Cricldewood Green studio album such as Love Like A Man, SO,OOO Miles Beneath My Brain and Working On The Road, and this is probably why it shows up here as an encore.

We seemed to be playing quite spur of the momer stuff in this period as witness, Help Me, Baby about which Alvin comments "I might ad that's the first time we've played that number for about nine months. Yeah! was a good trip, wannit ?"
Roll Over Beethoven, the Chuck Berry classic, has to the best of my knowledge never before been released on any Ten Years After set, which makes this track extremely rare.

Hobbit, my old chestnut, is included here as it was an integral part of our live sets all through our career and is different to a later version that was on Recorded Live. I was experimenting with different forms at this time in the live context. Similarly, many of Ten Years After's classics qained development on stage in front of our fans. I don't mean we were getting paid for rehearsing, What we were doing was more akin to the way jazz players had developed their chops in the years before; taking a basic theme and then jamming it out. This way each performance would have something different, however small and the music was kept exciting for bolh the performers and the affcionados.

A good example of this happens in I Woke Up This Morning. There's a 'living on the edge' approach from the rhyt!un section during Alvin's extended solo. In effect we were all soloing and you'll hear Leo and Chick and me all playing phrases across the beat in a jazz style to both complement and contrast with the guitar, which became one of the trade marks of a Ten Years After performance.
In my humble opinion, these tracks are among some of the best Ten Years After live recordings.
When putting this collection together, we tried hard to re-create the excitement and ambience of the gigs when mixing, and, although the final selection is taken from different nights, we've tried to present the album as near to the running order of the show so that you the listener, can sit, get stoned or whatever, and either imagine being at the Fillmore soaking up the atmosphere if you were never there, or relive it if you were, in what was one of rock's most famed and revered venues.
Ric Lee
Liner Notes
(c) 2001 Fast Western Ltd.
Number of Discs: 2 Label: EMI Catalogue ASIN: B00005K1ZD Catalogue Number: 5332972